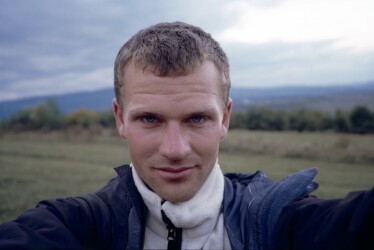 American, born 1978.
Davin Ellicson works from Bucharest, Romania a beguiling little known EU capital that is in the midst of dramatic change and cultural regeneration after the fall of Nicolae Ceausescu.
His first major project was "Taran" based on the year he lived with farmers in the village of Valeni in the Carpathian mountains and is the subject of his first monograph out in 2015. An ongoing series on the city of Bucharest comprises the second part of his trilogy of photographic works about Romania. Currently, Ellicson is at work on "Paradox Romania", a wide-ranging road trip around the country in a vintage Dacia 1310 and a personal response to the country's post-communist evolution.
Ellicson's work has appeared in such publications as The New Yorker, The New York Times, The Guardian, The Christian Science Monitor, Der Spiegel, L'Espresso, The Official Ferrari Magazine, ART, OneWorld, AFAR and The Chronicle of Higher Education among others.
Ellicson's photography has been exhibited worldwide including at The Phodar Photography Biennial in Pleven, Bulgaria, The Takashimaya Store in Tokyo, Japan, at The East West Gallery in Vienna, Austria and is in numerous private collections. In 2012 his Maramures work appeared at the Lumix Festival in Hannover, Germany. Awards and honors include grants from The Romanian Cultural Institute in Bucharest in 2012 and 2014, the portfolio award at The 2009 Phodar Photography Biennial and a Larson Fellowship.