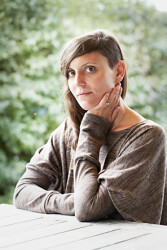 Hanna Haböck was born in Vienna in 1979. In 2000 she finished her studies in Photography at the "Höhere Graphische Bundes Lehr- und Versuchanstalt" in Vienna, after which she went on to study one year of Communication Design. She presented her work "Beauty Machinery," a photo book about the western ideal of beauty, at her final class exhibition in 2001. Between 2001 and 2004 she studied Psychology at the University of Vienna. Since 2005 she has worked as a photographer with a focus on fashion and art.
Her exhibitions and projects include:
2002 Group Exhibition in Vienna "Suche Liebhaber"/ Schieberkammer der Wiener Wasserwerke
2003 Group Exhibition at the Museum of Applied Arts ("MAK") in the ancestral gallery "The Red Bag Plays the MAK"
2006 Cinema Strange
2007 Book project "Arbol de Mango", a journey through Nicaragua
2008-2016 Cooperation with the fashion label PiaMia
2010 Exhibition "Privacy Matters" at Anzenberger Gallery, presenting photo series "Past Eight AM." as part of "Monat der Fotografie"
2011-2016 Work on exhibition project "Floating Dream", nine journeys to metropolises of affluent Western societies.