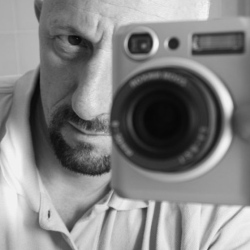 Born in 1959. He lives in Marseille and is an autodidact who photographs that which he loves: Marseille and surroundings, what happens to him and what is living around him.

Exhibitions:
Rencontres d'Arles 1997, Galerie Fnac Avignon 1998 and Rouen 2000, Biennale de l'Image Nancy 2003, San Antonio gallery Texas (USA) 2003, Rico Espinet gallery in New York 2001, Aubagne festival 1994, Flatfile gallery Chicago, etc.

Awards:
2002 Art Directors Club Germany Silver Medal, American Society of News Design USA and Society of Publication Design in the USA for the publication of Portraits of Boats in Sueddeutsche Zeitung Magazin

Collections:
Bibliotheque François Mitterand Portraits de Bateaux Series
University of Texas Portraits de Bateaux Series

Publications:
Sueddeutsche Zeitung Magazin, mare, Independent, Aeroflot, CAAC in-flight magazine, etc.

He is a member of the photographer's association La Fontaine Obscure and has been represented by the Regina Maria Anzenberger Agency since 2000.