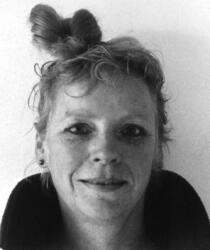 Annet van der Voort was born in the Netherlands in 1950; after her high-school graduation, she worked as a salesperson. She moved to Germany in 1973 and completed her studies in visual communication at the university of applied sciences in Dortmund with a diploma as designer.

In her artistic work, van der Voort focuses on the subject of transience – with the person, in all stages of his life, in the centre. Many of the series of pictures thus created have been shown in Germany, Denmark, Great Britain, France and the Netherlands. Her portraits of multi-ethnic youths can currently be seen in a three-year touring exhibition accompanied by an illustrated book.

Additional areas of concentration in van der Voort's photographic work are the cyclic transience of nature and its phenomena. In addition, she is the author of several books dealing with the question of a dignified death.

Many of her works are in the possession of renowned museums (Staatsgalerie Stuttgart, National Museum of Photography Bradford, Museet for Fotokunst Odense, Deutsches Architekturmuseum Frankfurt, Nederlandse Gasunie Groningen, etc.) and in private collections.