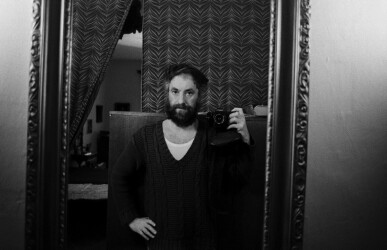 Jindřich Štreit (born 1946) is one of the most important European documentary photographers. Over
the past five decades he has portrayed rural life in the Czech regions of North Moravia and Bohemia.
Thematically and qualitatively, his photographs are close to the humanistic repertoire of Magnum
photographers, but it is his personal vision of this world that distinguishes his work. Štreit illustrates
people's isolation and loneliness in the everyday life of a socialist collective, while liveliness, a strong
sense of community, and solidarity prevail in the private realm, during festivities and social
encounters. This becomes especially evident when comparing his photographs to those depicting
official state events and celebrations. Štreit created a visual archive of a dictatorship that has nearly
been forgotten today, an extract of the cultural identity and history of Europe that he critically
reintroduces into our collective memory. His images break with the rigid systemic order as he
visualizes people's yearnings for a free and better world. Štreit is part of a social tradition of
photographers including Chris Killip, Anders Petersen, and Josef Koudelka. His work has been
featured in prominent museums and collections like the MoMA Department of Photography in New
York.