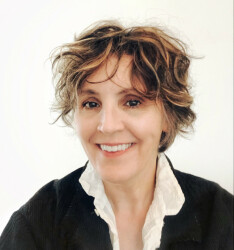 Tami Bone grew up in deep South Texas, USA, where she spent a childhood oftentimes free and driven by her imagination. Her photographic and photomontage work today pulls from impressions made during these early beginnings that make their way into her narrative images.
Her work has been exhibited nationally and internationally in invitational group exhibitions, solo exhibitions, and juried exhibitions at places such as Dimbola Museum in the UK, Misia Gallery in France, FotoSeptiembre in San Antonio, Texas, Wolverhampton Art Gallery in the UK, The Wittliff Collection at Texas State University, and The Shanghai International Photographic Arts Exhibition in China. She has received numerous awards and recognitions, and her work is held in both public and private collections, and has been featured in B+W Magazine UK, The Photo Review, Diffusion Magazine, Lenscratch, and BW Gallerist.
Today Tami lives in the rural area of Round Top, Texas and engages photography and photomontage as a means of story telling and self-expression. While her body of work, Mythos, is her own tale, it is a token of the shared mystery that binds us together.