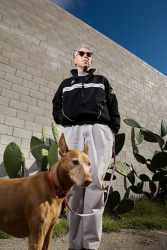 Richard Ross is a photographer, researcher and professor of art based in Santa Barbara, California. Ross has been the recipient of grants from the National Endowment for the Arts, the Annie E. Casey Foundation, Fulbright, and the Center for Cultural Innovation. Ross was awarded the Guggenheim Fellowship in 2007 to complete work on Architecture of Authority, a body of work of thought-provoking and unsettling photographs of architectural spaces worldwide that exert power over the individuals confined within them. Aperture Press published the work in 2007; it was also named one of the best exhibitions of the year by ArtForum. Ross's Guggenheim support also helped launch an investigation of the world of juvenile corrections and the architecture encompassing it. This led to Ross's most recent work, Juvenile In Justice, which turns a lens on the placement and treatment of American juveniles housed by law in facilities that treat, confine, punish, assist and, occasionally, harm them.

Ross's work has been exhibited at the Tate Modern, London; National Building Museum, Washington D.C; Santa Monica Museum of Art, Los Angeles; Aperture Gallery, New York; ACME. Gallery, Los Angeles; and the San Francisco Museum of Modern Art, San Francisco. He was the principal photographer for the Getty Conservation Institute and the Getty Museum on many of their architectural projects. He has photographed extensively for the Canadian Center for Architecture, Nike, New York Times, Los Angeles Times, SF Examiner, Vogue, COLORS, Courrier, and many more. A dozen books of his work have been published including Architecture of Authority (Aperture 2007), Waiting for the End of the World (Princeton Architectural Press 2005), Gathering Light (University of New Mexico 2001) and Museology (Aperture 1988). Ross has taught at the University of California, Santa Barbara since 1977.

EDUCATION
1973, University of Florida, Gainesville, Florida MFA
1967, University of Vermont, Burlington, Vermont, BA

AWARDS
2014, MacArthur Foundation, Publication Grant, Juvie Talk
2014, Gideon Award, California Public Defenders Associations
2013, American Library Assocation's Alex Award 2013 for Juvenile-in-Justice the book.
2012, Forward Thinking Museum, Documentary Photography Award, 2012
2012, American Society of Magazine Editors, 2012 Winner for Best News And Documentary Photography
2011, Investing in Artists Grant, Center for Cultural Innovation
2009-2013, Annie E. Casey Foundation Research Grant
2007, Guggenheim Fellowship, John Simon Guggenheim Memorial Foundation
2007, Grantee, Lannan Foundation

HONORS
2008, Architecture of Authority, Financial Times of London's Best Books of the Year
2008, Architecture of Authority, PDN Best Books of the year
2007, Architecture of Authority, Art Forum's Top Ten Shows of 2007

MONOGRAPHS
2015, JUVIE TALK: Unlocking the Language of Lockdown, Image of Justice Press.
2015, My Brother's in Juvie, Image of Justice Press.
2015, Girls in Justice, Essay by Marian Wright Edelman and others, Image of Justice Press.
2012, Juvenile in Justice, Forward by Ira Glass, Essay by Bart Lubow, Self-Published.
2007, Architecture of Authority, Essay by John R. MacArthur, Aperture Press.
2004, Waiting For The End Of The World, Essay by Sarah Vowell, Princeton Architectural Press.
2001, Gathering Light, Intro by Dave Hickey, UNM Press.
1990, Museology, Intro by Marcia Tucker, Aperture Press.

SELECT PUBLICATIONS & INTERVIEWS
2015, KCRW Art Talk, "World Isn't Worth Saving if the Price Is a Tear of an Innocent Child,"
2015, Vantage, "What Are We Doing Here? Some thoughts on cell walls and gallery walls," Article Illustrated
2015, Mother Jones, "These Photos Show What Life Is Like For Girls In Juvenile Detention," Article Illustrated
2015, San Quentin News, "Capturing the Stories of 1,000 Jailed Juveniles," Article Illustrated
2014, Susan Kuklin, No Choirboy, Cover Illustrated
2014, Miranda Joseph, Debt to Society: Accounting for Life Under Capitalism, Cover Illustrated
2014, Nell Berstein, Burning Down the House: The End of Juvenile Prison, Cover Ilustrated
2014, Citizens for Juvenile Justice, "Unlocking Potential: Addressing the overuse of juvenile detention in Massachusetts," Report Illustrated
2014, Campaign for Youth Justice, Infographic Illustrated
2014, The Hill, "We Still Have a Juvenile Incarceration Problem," Article written by Richard Ross
2014, Juvenile Justice Information Exchange, "Images of Detained Children Haunt US Senate Rotunda," Article Illustrated
2014, Burk Foster, Paula Broussard, Christopher De Lay, Kenneth Jaccuzzo, and Ray Von Robertson, Ph.D., Criminal Justice in Louisiana,
2014, Aljazeera America, "LA Schools to end zero-tolerance policies and criminalization of students," Article Illustrated
2014, Mark Dostert, Up in Here: Jailing Kids on Chicago's Other Side, Cover Illustrated
2014, Naomi Murakawa, The First Civil Right: How Liberals Built Prison America, Cover Illustrated
2013, Wired.com, "Bad Food, a Bible, and a Blanket: 24 Hours in Juvenile Solitary Confinement," Video Feature
2013, KCET-TV, "Geographies of Detention," Artbound Documentary, Video Interview
2013, Contexts, "Juvenile in Justice by Richard Ross," Photo Essay
2013, McGraw Hill, "Juvenile Delinquency: Bridging Theory to Practice," Textbook Illustrated
2012, Newsweek's The Daily Beast, "In 'Juvenile In Justice,' Children Caught in America's Prison System
2012, The Takeaway, "Juvenile Justice Through the Lends of Photographer Richard Ross"
2012, CBS News, 48 Hours Mystery, "Juvenile in Justice" photo project captures kids behind bars",
2012, Wired.com, "Uncompromising Photos Expose Juvenile Detention in America" April 11
2012, PBS Newshour, "Juvenile Education: Inside a Confined World," Interview with Richard Ross
2012, NPR, "An Unusual Glimpse Behind Bars: Juveniles in the Justice System," feature on Juvenile In Justice
2011, Harper's Magazine, "Photo Essay: Juvenile Injustice" 6-page photo essay of Juvenile-in-Justice project
2011, Annie E. Casey Foundation, images used in report: "No Place for Kids-The Case for Reducing Juvenile Incarceration"
2011, Campaign for Youth Justice, images in report: "Misguided Measures"
2011, Docuthesis, images used in report: "Dr. Elizabeth Cauffman: Adolescent Development & Juvenile Justice"
2011, Ella Baker Center, images used in campaign: "Books Not Bars"
2011, Equal Justice Initiative, images used in printed campaign publication
2011, Equal Justice Initiative, images used on EJI website

SELECT REVIEWS
2014, Santa Barbara News-Press, "Local artist depicts justice system treatment of American youth, "February 8, 2014
2014, Univision, "Arte tras las rejas en exhibición en California," March 11, 2014
2013 New York Times, "Richard Ross - "Juvenile-in-Justice", by Holland Cotter, January 31, 2013
2013, The Village Voice, "Arresting Images: Richard Ross...", by Robert Shuster, January 23, 2013
2013, New Yorker Magazine, "Richard Ross at Ronald Feldman Gallery"
2012, ProPublica, "Land of the Free: the Best Investigative Reporting on U.S Prisons," by Cora Currier
2009, BOSTON GLOBE "The artist outlines, the viewer fills in" Review of Clark Gallery: Museology and Gathering Light (Exhibition) October 14, 2009
2009, THE WASHINGTON POST "In Stark ʻAuthority,' Artist Asks the Tough Questions." Architecture of Authority (Exhibition) May 21, 2009.
2009, THE WASHINGTON TIMES "Control Rooms – California photographer examines settings of power plays" Architecture of Authority (Exhibition), April 26, 2009
2008, WIRED "Inside the Architecture of Authority"
2007, ARTFORUM "Best of 2007," Tom Vanderbilt Selected Books, 2007
2007, PDN (PHOTO DISTRICT NEWS) "Photo Books of 2007: Architecture of Authority"

SELECT EXHIBITIONS
2016 "Juvenile-in-Justice", Illinois State University, Normal, Illinois
2016 "Isolation" (solo exhibition), Georgia State University, Atlanta, Georgia
2016 "Juvenile-in-Justice" (solo exhibition), Clark Gallery, Boston, Massachusetts
2016 "Isolation" (solo exhibition), Inliquid, Philadelphia, Pennsylvania
2016 "Juvenile-in-Justice" (solo + group exhibition), Colorado College, Colorado Springs, Colorado
2015 "Juvenile-in-Justice" (group exhibtion), Open Eye Gallery, Liverpool, UK
2015 "Girls-in-Justice" (solo exhibition), Joan Mitchell Center, New Orleans, Louisiana
2015 "Juvenile-in-Justice" (solo exhibition), Augustana College, Rock Island, Illinois
2015 "Juvenile-in-Justice" (solo exhibition), Rutgers University, Camden, New Jersey
2015, "Girls-in-Justice" (solo exhibition), Figge Art Museum, Davenport, Iowa
2015 "Juvenile-in-Justice" (solo exhibition), University of Alabama, Tuscaloosa, Alabama
2015 "Juvenile-in-Justice" (solo exhibition), World Congress of Juvenile Justice, Geneva, Switzerland
2014 "Juvenile-in-Justice" (solo exhibition), Herron Galleries, Indianapolis, Indiana
2014 "Juvenile-in-Justice" (solo exhibition), University of Memphis, Memphis, Tennessee
2014 "Juvenile-in-Justice" (solo exhibition), Senate Rontunda Gallery, US Capitol, Washington D.C.
2014 "Juvenile-in-Justice" (solo exhibition), Heart Mountain, Powell, Wyoming
2014 "Juvenile-in-Justice" (solo exhibition), National Conference on Crime Prevention, Karisruhe, Germany
2014 "Juvenile-in-Justice" (Award), California Public Defenders Association Gideon Award: Media/Journalism/Awareness
2014 "Juvenile-in-Justice" (solo exhibition), Georgia State Judges and CWLS Conference, Waverly, Georgia
2014 "Juvenile-in-Justice" (solo exhibition), Harvard Law School, Wasserstein Hall, Cambrridge, Massachusetts
2014 "Juvenile-in-Justice" (solo exhibition), Rhode Island School of Design, Providence, Rhode Island
2014 "Juvenile-in-Justice" (solo exhibition), Emory University School of Law, Atlanta, Georgia
2014 "Juvenile-in-Justice" (Talk), Boston College Law School, Newton, Massachsetts
2014 "Juvenile-in-Justice" (solo exhibition), Ulrich Museum, Wichita, Kansas
2014 "Juvenile-in-Justice" (solo exhibition), University of Central Oklahoma, Edmund, Oklahoma
2014 "Juvenile-in-Justice" (solo exhibition), Art Museum at the University of Memphis, Memphis, Tennesse
2013 "Juvenile-in-Justice" (solo exhibition), Ronald Feldman Fine Arts, New York
2013 "Juvenile-in-Justice" (solo exhibition), Anzenberger Gallery, Vienna, Austria
2013 "Juvenile-in-Justice" (solo exhibition), "Che Mondo," Los Angeles Municipal Art Gallery, Los Angeles, California
2013 "Juvenile-in-Justice" (solo exhibition), Ice Box, Crane Arts, Philadelphia, Pennsylvainia
2013 "Juvenile-in-Justice" (solo), Centre d'Action Laïque, Charleroi, Belgium
2013 "Juvenile-in-Justice" (solo exhibition), Ronald Feldman Gallery, New York, New York
2012 "Juvenile-in-Justice" (solo exhibition), Nevada Museum of Art, Reno, Nevada
2012 "Juvenile-in-Justice" (solo exhibition), Gage Gallery, Roosevelt University, Chicago, Illinois
2012 "Juvenile-in-Justice" (solo exhibition), Paris West University Nanterre, Paris, France
2012 "Juvenile-in-Justice" (solo exhibition), Kennesaw State University, Atlanta, Georgia
2012 "Opening the Black Box: the Charge Is Torture" (group exhibition), School of the Art Institute of Chicago, Chicago, Illinois
2012 "Sight Specific: LACPS and the Politics of Community" (group exhibition), USC Fisher Museum of Art, Los Angeles, California
2011 "Awkward Stage: Adolescence and Identity" (group exhibition) Sun Valley Center for the Arts, Ketchum, Idaho
2010 "Exposed" (group exhibition) Tate Modern, London, England
2010 "Teenage: You Just Don't Understand" (group exhibition) Catherine Clark Gallery, San Francisco, California
2010 "Animal Instinct: Allegory, Allusion, & Anthropomorphism" (group exhibition) John Michael Kohler Arts Center, Sheboygan, Wisconsin
2009 "Architecture of Authority" (solo exhibition) National Building Museum, Washington, DC
2009 "Incognito" (group exhibition) Santa Monica Museum of Art, Los Angeles, California
2008 "Architecture of Authority" (solo exhibition), Aperture Gallery, New York, New York.
2008 PULSE, New York Art Fair, New York, New York
2008 "Architecture of Authority" (solo exhibition) Nerman Museum, Kansas City, Kansas
2007 "Architecture of Authority" (solo exhibition), ACME Gallery, Los Angeles, California
2007 "Surveillance" (group exhibition) San Francisco Museum of Modern Art, San Francisco, California
SELECT LECTURES & SPEAKING ENGAGEMENTS
2015, Hammer Museum, with Peter Sellars, Human Faces in the American Juvenile Justice Gulag
2015, Princeton University, Princeton, NJ, Ferris journalism lecture
2015, Ohio State University, Columbus, Ohio, Kirwan Institute for the study of race and ethnicity and Moritz Schhol of Law (Keynote)
2015, University of Oregon, Eugene, Oregon
2015, International Juvenile Justice Conference, Geneva, Switzerland
2015, Figge Museum of Art, Davenport, Iowa
2015, Painted Bride Art Center, Philadlphia, PA
2015 RISD, Providence, R.I.
2014, The Oxbow School, Napa, California
2014, California State University, Long Beach, California
2014, United States House of Representatives "The Juvenile Justice and Delinquency Prevention Act: Keeping Kids and Communities Safe." Hearing panel member and presenter. Washington D.C.
2014 National Conference on Crime Prevention, Karisruhe, Germany
2014, Kansas State University, Manhattan, Kansas
2014, Harvard University Law School, Cambridge, Massachusetts
2014, Bostcon College, School of Law, Newtown, Massachusetts
2014, University of Central Oklahoma, Edmund, Oklahoma
2014, Ulrich Museum, Wichita State University, Wichita, Kansas
2014, Rhode Island School of Design, Providence, Rhode Island
2014, Hernon Museum, University of Purdue and Inidana University, Indianapolis, Indiana
2014, Georgia State Judges and CWLS Confwerence, Waverly, Georgia
2013, Hearst Distinguished Lecture, Florida International University, Miami, Florida
2013, Centre d'Action Laique, Charleroi, Belgium
2013, National Council of Juvenile and Family Court Judges 76th Annual Conf, Seattle, WA
2013, Keynote Speaker, JEW/NSPA Spring National High School Journalism Convention, San Francisco Marriott Marquis, San Francisco, Calfornia
2013, "From Art to Activism: Performance, Photography and Documentary," Association for the Study of Law, Culture and the Humanities 16th Annual Conference, Birkbeck Law School, University of London, England
2013, "Photographie et documentaires: de l'art à l'activism, Maison des Sciences de la Communication et l'Information," Université Paris 8, Paris, France
2013, Keynote "Juvenile Justice:A Photographer's View," California Public Defenders Association, Monterey, Calfornia
2013, "Richard Ross Turns His Lens on the Juvenile Justice System," Vera Voices Event at the Vera Institute of Justice, New York, NY
2012, Models for Change: Systems Reform in Juvenile Justice, Seventh Annual National Working Conference, Coalition for Juvenile Justice, Washington, DC
2012, "Juvenile-in-Justice: An Interdisciplinary Documentary Project by UCSB Faculty and Students (as seen on PBS)," Corwin Pavilion, UCSB, Santa Barbara, California
2012, Keynote Second Annual Lives in the Balance Conference: We're Not Done Yet!, The Stakes are High: Breaking the School to Prison Pipeline, Maine Juvenile Justice Advisory Group (JJAG), Portland, Massachusetts
2012, Art as Moral Action: Impunity and Democracy, A Deep Failure of Imagination and Systematic Infliction and Deepening of Damage: Juvenile Justice in America, UCLA, Los Angeles, California
2012, Keynote "First Annual Justice for Youth Summit," American University, Washington, D.C.
2012, Pennsylvania State Law School "Brown Bag Lunch Discussion", University Park, Pennsylvania
2012, National Symposium on Juvenile Services
2012, Women In Government Conference "Outreach to Vulnerable Populations: Building Better Futures for America's Teens & Young Adults", Portland, Oregon
2012, UCSB Research Mentorship Program, Santa Barbara, California
2012, Seventh International Conference on Interdisciplinary Social Sciences, Barcelona, Spain.
2012 Interview, PBS Newshour, "Juvenile Education: Inside a Confined World," Broadcast.